Jennie June
Updated: May 9, 2021
Feeling the overwhelm of what you should bring to the hospital??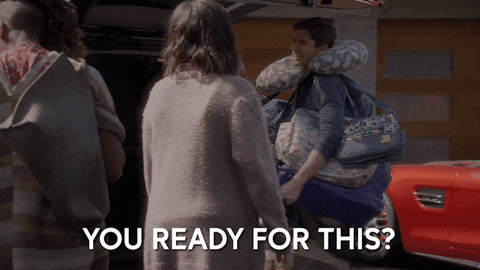 As a nurse, Lamaze Certified Childbirth Educator, and mama x 2, I have spent lots of time researching this topic. I'm all about minimizing mamas' stress levels, so I'm going to take this overwhelm away for you by providing you with my complete Hospital Bag Checklist below! (This blog will dive into the reason behind the why for each item, but you can also opt in on my offerings page to get access!)
I want you to pack two bags for the hospital— one bag with all your labor essentials, and one bag with everything you'll need after baby arrives. It really helps to stay organized so you know where your items are when you need them. Plus your partner may end up being the one to grab things from the bag, so its helpful if you're easily able to tell them where to find it. Let me just tell you, when you're in labor and you want something, you want it now so it will be frustrating for you to be waiting while partner rummages through your oversized tote filled with all the things, none of which you need right now.
Or lets say you aren't as high maintenance in labor as I was ("I NEED MORE ICE CHIPS!" "WHERE IS MY CHAPSTICK??!"). You'll still want those items separated in two bags because your hands will be fuller than you know once your sweet little bundle is in your arms. And it is nice to be able to throw your labor bag in the car once you are done with that—one less thing to carry when you leave the hospital with baby.
Labor Bag Essentials:
Bathing Suit Top: Baths are a popular tool at the hospital for laboring moms. You certainly aren't required to be covered, but just realize several healthcare providers may be in and out as you are in the bath. If thought of being naked in a bath in front of those healthcare providers makes you feel uncomfortable, pack a bathing suit top. Anything we can do in labor to decrease your stress makes a difference. I don't say bottoms just because we need that area open and available for cervical checks and, you know, delivering babies!
Birth Plan: This is a great communication tool for you to share your birth preferences with your healthcare provider. Though certainly not a binding contract or a list of guarantees, it at least gives your health care provider a better understanding of how you imagine your birthing experience to be. You can write your own birth plan in letter form, otherwise many hospitals have a birth plan document that you can complete and check off your preferences. I do recommend bringing your birth plan to an earlier checkup, but also have a copy in your labor bag in case it wasn't properly attached to your chart at your earlier appointment. Then you can be sure whichever healthcare provider is caring for you knows your plan.
Bra: Although labor gowns are provided at the hospital, many moms end up laboring in just their bra. Make sure its unrestrictive and comfortable though! You might consider a nursing bra to make that first feeding easily accessible. Otherwise a bralette is often more comfortable, while still allowing for easy access for the first feeding, like this one.
Chapstick: It's the little things in labor, really. You become hyper aware of minor things that usually wouldn't be much of an annoyance. So be prepared ahead of time and pack that chapstick in a convenient spot for when you feel dehydrated. *You'll want to bring this item to postpartum too
Exercise Ball: Your hospital will provide an exercise ball, however if you have one at home you have become used to the size and firmness of that ball. It's a good idea to bring your inflated exercise ball from home (because who wants to inflate an exercise ball during labor??). Here's one less than $20
Flameless Candles/Christmas Lights: Consider the lighting in your labor and delivery room. Most hospitals have harsh florescent lighting, so making changes like dimming the lights or swapping out for flameless candles or soft white Christmas lights can help promote relaxation. Here's a pack of 12 for $10.99! (these would be really calming all around your labor room!)
Focal Point: Pack an ultrasound photo of baby, or perhaps a photo from your favorite relaxing vacation. This will serve as your focal point, or image to focus in on during contractions. You can also pick a spot on the wall in your labor room, but often an image from home is more meaningful.
Hair Elastics/Bobby Pins: Have what you need to get your hair up and out of your face. Little distractions like pieces of hair in your face can be especially irritating during labor, so this is an easy thing to pack that will save you from what could be a major frustration. *You'll want to bring this item to postpartum too
Lotion/Oil: Lotion can be helpful for more comfortable massage from partner, but just be aware your senses will be heightened during labor. Perhaps your go-to fragrance from Bath & Body Works will seem a bit much (not bashing B&BW here—their Plumeria scent made me feel beautiful in my middle school days haha). Aim for a mild fragranced product.
Massage Tools: You can get creative here with things like tennis balls and even paint rollers! You do not necessarily need to spend tons of money on an expensive massager (and be aware, many hospitals do not permit plug-in massage tools). This one is a favorite I've tried though (and only $8.99..can you tell I like deals?!)
Phone Charger: Make this an extra long phone charger as many hospital rooms are set up with the outlets behind you. You do not want to have a low battery during those first sweetest moments of meeting baby. You won't necessarily have time to plan ahead at home to arrive with your phone fully charged. *You'll want to bring this item to postpartum too
iPhone users click here for extra long charger
Android users click here for extra long charger
Pillow from Home: Opt to bring a colorful pillow from home (as opposed to a plain white one like the hospital provides) so that your soft pillow doesn't get mixed up with the plasticky hospital one. Bringing your pillow from home promotes relaxation as this is the spot you lay your head to rest, relax, and sleep! The smell of home at the hospital will promote relaxation throughout your laboring body. *You'll want to bring this item to postpartum too
Playlist: Make a playlist today and start listening to it now while you're relaxing. You will start to associate the songs with being relaxed, so when it plays in labor your body will more readily relax. Many moms that take my prenatal yoga classes ask for the playlist from class for this same reason— they have already trained their brain to enter "relax mode" when the music starts to play.
Rice Pack: Although many hospitals provide heat packs (typically the break and shake type), I suggest bringing something like a rice pack to heat up in the microwave during labor (your labor nurse can take care of this for you). It's just cozier than the instant, plastic heat packs. You can also make these larger so that they can cover a larger surface area than the hospital ones.
Snacks: Whether or not you eat during labor will depend on your health care provider. If you are able to eat, think easy to eat, energy-fueling options. And don't forget to pack snacks for partner too! Likely you will be less focused on eating than partner will—you are hyper-focused on contractions, while all partner can hear is their grumbling stomach. I always encourage my couples in class to have a conversation around this. Mom-would you rather have partner eating in front of you (does he/she like smellly snacks??) or leaving the room to go to the cafeteria to get food (or will you feel abandoned in your labor room?). Consider both options, and don't forget to pack some mints either way😉
Socks: You know those super soft cozy socks you love to wear during the winter? Throw a pair of these in your labor bag because they will be more comfortable than the hospital ones. You may end up pulling them off as labor progresses and you get warm, but if you feel chilled at any time they are nice to have.
Wallet: ID and insurance cards will be needed
Wash Cloth: Hospitals are able to provide these for you, but one from home that is softer would be more comforting. You may like a cold washcloth on your head to cool you off, or a warm washcloth on your perineum during pushing to aid relaxation of the pelvic floor muscles during delivery.
Water Cup: I recommend bringing your own large lidded water cup with a straw like this one (so many cute color options! and good to have the handle too). The hospital provides styrofoam cups with lids and straws, but I would suggest your own more durable cup. This will also be nice to have in the postpartum unit because you will be surprised how thirsty you get if you choose to breastfeed. *You'll want to bring this item to postpartum too
Postpartum Bag Essentials:
For Mom:
Outfits for the Hospital: Wear the gowns if you like (most hospitals provide breastfeeding-friendly gowns if needed with special snap-open areas around the chest area), but I know a lot of moms find their own pajamas to be more comfortable. Night gowns or high waisted bottoms work best. Consider packing a robe! Plan for 2 nights for vaginal delivery, 3 nights for cesarean section (hospital depending!).
Outfit for Going Home: Keep it LOOSE my mama friends. Most moms say just after birth their stomach goes back to the size it was at about 6 months of pregnancy. In addition to your tummy, you will have thick pads in your oversized undies for bleeding. Also I recommend dark bottoms as opposed to light because of the bleeding that happens after birth. Take it from this lady who packed tight, light gray leggings for bringing her first baby home from the hospital. Isn't postpartum fun??
Slippers: Some moms say they packed slippers that they left at the hospital just because they didn't like the idea of tracking hospital germs home. Up to you and your comfort level, but I do think having slippers is nicer than just wearing the hospital socks.
Toiletries: Pack like you're packing for a trip: shampoo/conditioner, body wash, face wash, makeup, toothbrush, toothpaste, razor, etc… I do encourage you to take advantage of the help at the hospital and get a shower before you head home! It could be a while until you get another one.
For Baby:
Baby Book: Many baby books have a page for footprints. Your nurse can easily do a set for your baby book when they do one for baby's birth certificate. Unless your looking forward to this craft project with baby once your home from the hospital (pro tip: have your nurse do it. No time for arts & crafts in those early newborn days😉)
Car seat: Babies are required to have a properly installed car seat in order to be discharged from the hospital.
Outfit for going home: Baby will be in hospital clothes during your stay, but will be changed before heading home. I would recommend packing a newborn AND 3 month outfit. My husband and I struggled to get our 8lb 14oz baby into that teeny tiny newborn outfit, and I know there are babies that are born bigger than that!
Outfit for photos: I know how you moms today love matching your floral robes with baby's nightgown, and some even pack letter boards—how adorable is that?? I don't think letterboards or coordinating robes and baby nightgowns were even a thing when I was pregnant, otherwise I would have been all over that. Depending on your hospital, a professional newborn photographer may come to your postpartum room to offer photos.
Other:
Extra Bag for hospital items and gifts: Hospital gifts aren't as much of a thing right now with limited visitors during Covid, but you will definitely be sent home with any leftover pads, diapers, wipes, etc. that aren't used during your hospital stay
Snacks: Unless you really like the orange crackers with peanut butter…
Social Security Number of parents: Not the card, just the number. Required for baby's birth certificate
Treats for hospital staff: Not a necessity, but always a nice way to say thank you to the staff. When I was a patient, I just left a jar of candy in my room for anyone who came in to help themselves to. When I was a postpartum nurse, patients often brought in treats for the nursing lounge to snack on, and special coffee creamers were always a favorite of the nurses!
Mamas, you've got this!
That's your complete list! Now here are some things you don't need to pack...
Most hospitals can provide the following for laboring moms:
Exercise Ball/Peanut Ball
Heat packs
Heated blankets
Ice packs
Ice chips/Water
Microwave Access
Popsicles/Juice/Crackers
Most hospitals can provide the following in the postpartum unit:
For Mom:
Disposable Underwear
Extra large pads
Gown (nursing or regular option)
Icepack Pads
Lanolin Nipple Cream
Perineum Bottle
Sitz Bath
Tucks Pads
(other items like hospital grade pump, nipple shield, etc. available upon request)
For Baby:
Bulb Syringe
Diapers
Shirt
Sleep Sack
Swaddle Blanket
Wipes
(other items like pacifier, formula, etc. often available upon request)
Been in labor before?? What was an item you were especially glad you packed? Leave it for other moms to learn from in the comments below.
Sending coffee & sunshine your way,
Jennie June xo
Ps. Want this in an easy to read PDF checklist? Opt in here to get access!